Uncategorised
Hits: 6216
Welcome to City of Birmingham Striders homepage
COBS is a club that encourages participation in running at all levels.
Our sessions across the week are led by qualified leaders with different pace groups supported more info below
Join anytime
********************NEW**********************************
Starting Saturday 26th January 10.15am ZERO to 5K
Jewellery Quarter

email This email address is being protected from spambots. You need JavaScript enabled to view it. for more info
***********************************************************
To find out more including which session best suits you

e mail: This email address is being protected from spambots. You need JavaScript enabled to view it.
Programme and Session Info
for more info email
This email address is being protected from spambots. You need JavaScript enabled to view it.
We have 4 sessions. All are free to attend.
Tuesday open sessions are suitable for everyone

Thursdays tempo session for those who can complete a 5k within 28 minutes


Saturday sessions are longer runs at a range of paces. For these it is more important how long you can sustain a run for rather than how fast.

Sunday are suitable for all, including absolute beginners, experienced runners and all in between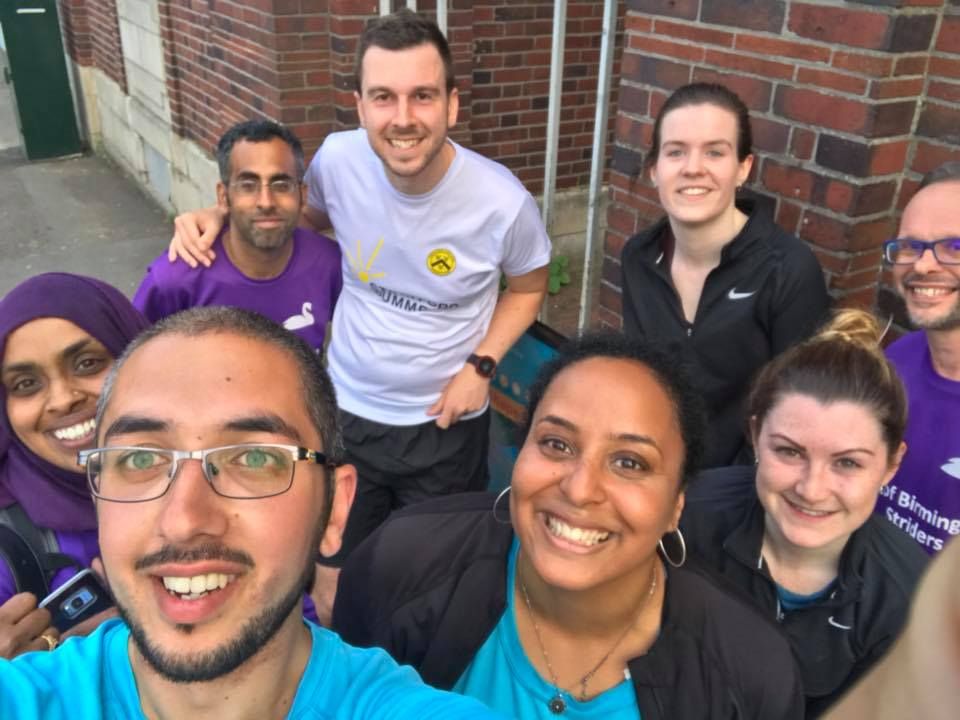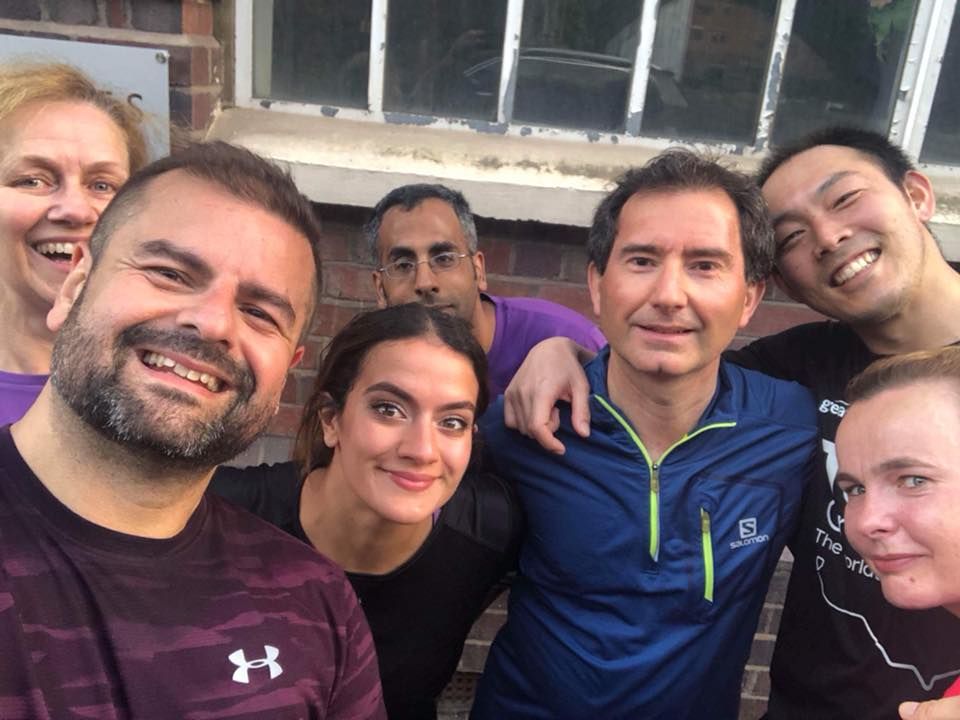 Session further info
Tuesday sessions
Tuesday 7pm (for a 7.15pm start), Aston University
open to all runners who can run at least 1 mile in 14 minutes
Usually finish by 8pm
Thursday evening
6.45pm for a 7pm start, Livery Street

suitable for people who can complete a 5k in up to 28 minutes.
Saturday long run sessions
No Saturday run in December

The next Saturday run will be on 19th January email for more info
Sunday sessions for All Runners

Aston University 11am 
For more info including start time, paces, distance covered and location 
e mail: This email address is being protected from spambots. You need JavaScript enabled to view it.
More about City of Birmingham Striders (COBS)
We are a UKA affiliated club, emerging from Yoga Haven run club which was established in 2012. 
There is no cost per session
 You do not have to be a member to join sessions
Standard membership costs £30 and covers any part of the April to April year. The sooner you take up membership the more time you get as a member. However membership can be started at any time from April n one year to March in the next.For more details please see the club membership page.

Sessions are led by UK Athletics qualified running leaders. 
Club leaders for 2018-19 are Nav, Lisa and Seth.
Club leaders are supported by session support leaders who may also be fully qualified run leaders. On occasions a session may be led by a session support leader.
Our run sessions are open to any age from 12 years old upwards. 12 - 16 year olds must have written approval from an adult who is responsible for their care.
--------------------------------------------------------------
There are local, county, and regional level races that we promote within the club and support within our training programme. To represent the club in races, and to enter relays and cross country you need to be a member and wear the club vest. See the Race Details page for more information.
Hits: 2062
Cross Country 2018 - 19 fixtures

Locations for the Men's League
November 10  Coventry (Northbrook / Massey Ferguson)
December 1  Gloucester (Plock Court)
2019 fixtures:  January 12: Droitwich. February 9: Gloucester
Locations for Women's League

November 10 Coventry
December 1 Stratford
2019: January 12:Droitwich, February 9: Gloucester
Prioritised Road Races 2018
Results in these races determine club awards at the end of the year. All times are converted to 2015 standard age grade results to make results level between genders and ages. 60% age graded results achieved by club members in these races are noted on the age graded results page. Members who get a 70% age grade result get an award for that achievement, these members are then not eligible for other club awards.
Prioritised Races by month
April
8
Birmingham Half Marathon / 10k / 5k results
Sutton Coldfield Park
This half marathon counts as part of a half marathon challenge. The age grade winner of the overall challenge gets a club award. Only those who are members at the time of their recorded runs and are still members end of March 2019 can get the award. At least 2 half marathons from the prioritised or recommended races should be finished to qualify for the club award.
May
6
Simply Health Birmingham 10k results
June
3
Sutton fun run 8.5 miles, Sutton Coldfield results
 17
Arden 9 miles, Hampton-in-Arden results
 July
8
Northbrook 10k results
 21
Stratford Summer Six (6 miles) results
August
 26
Atherstone 10k results
September
9
Lichfield 10k results
 October
14
Birmingham half marathon enter
 November
4th
Conductive Education 10k, Cannon Hill Park enter
Parkrun Cannon Hill Park unless notified otherwise. Sign up and print off barcode to record result.
Parkruns and relays are part of a 5k challenge. The age grade winner of the oeverall challenge gets a club award. Only those who are members at the time of their recorded runs and are still members end of March 2019 can get the award. At least 2 races at this level should be finished to qualify for the club award.
March 24 results
others tbc
Relays (dates subject to final confirmation) info and results
March 17
September 22
Cross Country 2017 - 18 League Races Results

Cross Countries are counted together in an overall challenge with the highest ranked club member in the men's and in the women's league winning a club award (must do more than 1 race to get the award)
January 13 women's league results
February 10 - men only see men's league results above
Recommended Half Marathon Races
June 24 Shifnal
July 1 Leamington
July 7 Brimingham Black Country
September 2 Wolverhampton
These races are included in the COBS half marathon challenge.
Warwickshire Road Race league
A series of races organised by the county and with a good community spirit to many of them. It is recommended that members try to do 4 WRRL races as this, in 2017, provides guaranteed entry into the Two Castles 10k which is part of WRRL series and is not prioritised because it is entry by ballot. 3 WRRL are prioritised leaving any of the others as recommended if they fit into your own plan.
The Kenilworth half and the BRAT 5k count towards their respective club challenge award.
For more please see the WRRL planner here
Hits: 3385
Age grading is a method that is used to reflect the knoweldge we have about how people run at different ages. It enables runner to compare themselves against the expected pace for a runner in their age group. It is worked out against a time based rounded off from the best in the age category and revised every 5 years or so.
- 60% is a significant marker in age grading as it is considered to be the level at which club runners can run well amongst other club runners in the same age group.
- 70% is significant but much harder to achieve, it is like a threshold figure which when achieved denotes that the runner can expect to perform well amongst those from the various regions in the UK who are fastest in their age group
- City of Birmingham Striders club celebrates achievements for each individual according to their own benchmarks. For some it may take a long time to get to this level. For many 70% will be a very rare achievement at best.
With the help of well informed personalised training we can all work healthily towards and achieve goals. Age graded performance can be an encouraging target as it can be improved across the lifespan. We calculate using exact age, some races including parkrun use age category.
- The age graded performances celebrated here are the highest achieved by individual members in races prioritised by the club
2018 (using 2015 WMA age grade road race grading)
March
Road Relays
Matt Allen (5.08k) 62.21%
Mark Baker (5.08k) 61%
Parkrun
Nav Akhtar 62%
Arden 9
Loretta Soffe 70.59%
Jen Twine 69.94%
John Bristow 62.9%
Harriette Salvage 60.79%
Midland Road Relays 5.88k
Seth Atkin 67.28%
David Nunez Becerra 66.62%
Jonathan Evans 66.17%
Ali Hasip 60.66%
2017 (using 2015 WMA age grade road race grading)
March
Road Relays (5.08k)

Victor Garcia de Dios 62.67%
April
Ronnie Bowker 10k
Charlotte Bradford 63.17%
Cannon Hill Parkrun
Matthew Allen 62.15%
Birmingham 10k
Carol Jagpal 72.31%
Hannah Stokes 64.4%
Nav Akhtar 62.94%
Chloe Jagpal 62.85%
May
Cannon Hall Parkrun
Seth Atkin 71.83%
Masters Relays

Mylo Patrice 69.79%
Ali Hasip 67.90%
July
Stratford Summer 6
John Bristow 64.64%
August
BRAT 5k
Loretta Soffe 66.82%
November
Conductive Education 10k
Jen Twine 70.08%
-------------------------------------------------------------------------------------------------------------------------------------------------------------------------------------------------------------------------
2016 (using 2015 WMA age grade road race grading)

March 
Cannon Hill Parkrun 5k
Marlon Patrice 68.70%
Kasia Niedzwiedska 63.32%
John Bristow 60.45%
May
Birmingham 10k
Chloe Jagpal  65.73%
Hannah Stokes 65.35%
Matthew Stevens 60.13%
September
Cannon Hill Parkrun 5k
Loretta Soffe 67.53%
Regional Road Relays (men 5.88k, women 4.33k)
Rohan Kallicharan 71.24%

David Nunez Beccera 67.28%
October
Birmingham Half Marathon
Charlotte Bradford 62.92%
Victor Garcia de Dios 60.55%
Shahid Valandil 60.5%
November
Conductive Education 10k
Carol Jagpal 76.77%

Jen Twine 68.73%
December
Cannon Hill Parkrun 5k
Seth Atkin 70.02%

Ali Hasip 66.97%
Harriette Salvage 64.63%
Nav Akhtar 62.93%
Adian Wheeler 61.19%
 ---------------------------------------------------------------------------------------------------------------------------------------------------------------------------------------------
2015 (using 2010 age grade road race statistics)
19th April Regency 10k
Seth Atkin 69.63%
Marlon Patrice 66.08%
Nav Akhtar 61.82%
3rd May Birmingham 10k
Rohan Kallicharan 68.54%
21st June Arden 9 miles
Chloe Jagpal 64.55%
12th August Rowheath 5k
James Drakeford 68.50%
Maura Quill 67.96%
John Bristow 65.14%
18th October Birmingham half marathon
Carol Jagpal 78.25%
Mark Phiillips 67.25%
Hannah Stokes 62.01%
 -------------------------------------------------------------------------------------------------------------------------------------------------------------------------------------------------------------------------
 2014 (using 2010 age grade road race statistics)
22nd June  Arden 9m
Emma Hewitt 65.07%
28th September Robin Hood Half Marathon (Nottingham)
Seth Atkin 70.24%
Nav Akhtar 63.75%
18th October Birmingham Half Marathon
Carol Jagpal 71.26%
Chloe Jagpal 62.20%
2nd November Conductive Education 10k
Mylo Patrice 61.97%
You are here:  

Uncategorised